Jenny Pickett, Julien Ottavi, Marinos Koutsomichalis
DEEP()MESS - open.ended dis.connected
---
DEEP SOUND OPERA, Act 7
Saturday Night, 02:00 h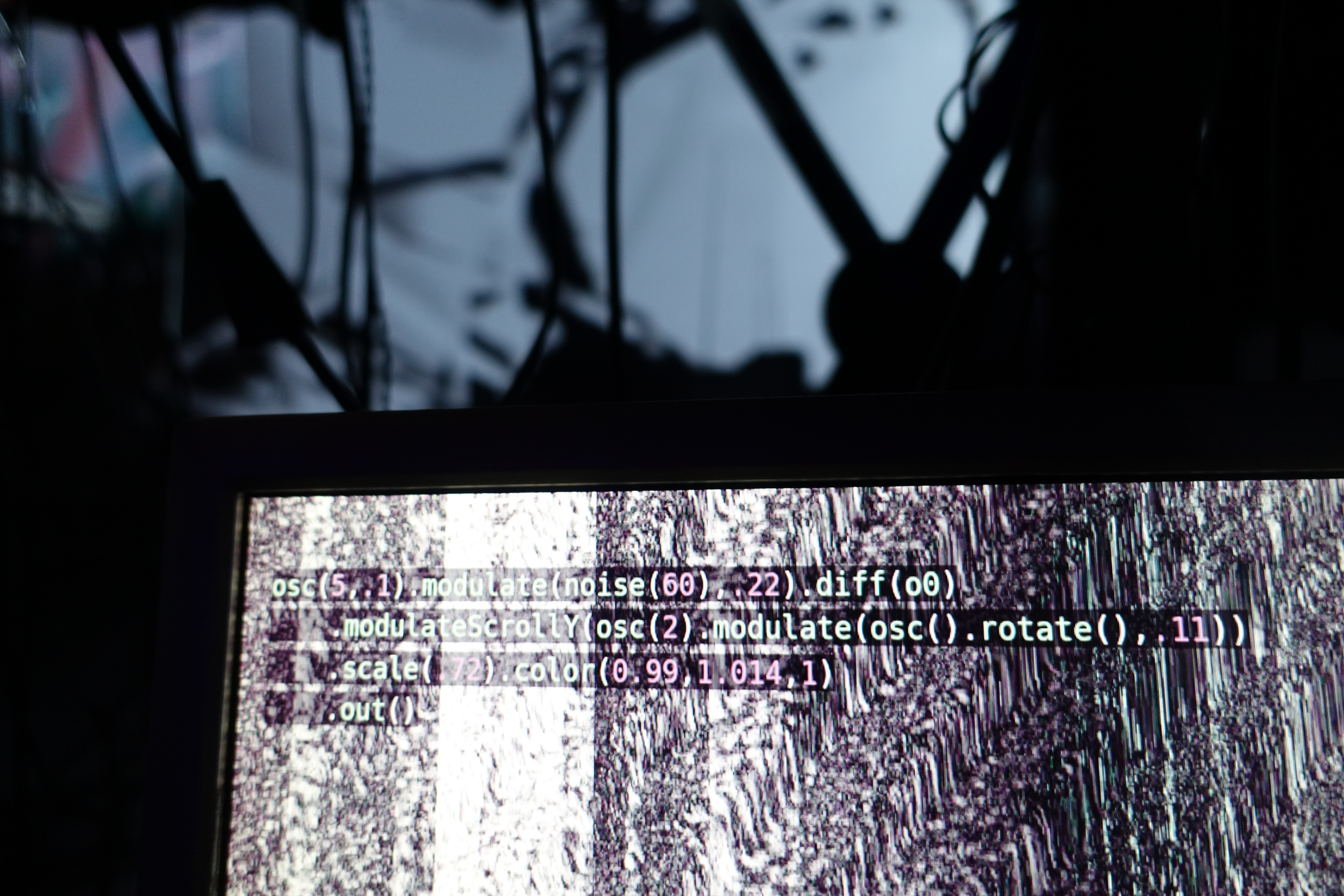 An open-ended disconnected/connected do-it-with-others performance dominated by untamed frequencies, DIY instrumentation, electroacoustic noises, animistic objects, and orchestrated acts of irrationality.
A text by Julien Ottavi & Jenny Pickett on the precursor project MEDIA()MESSe appeared in Versorgerin 135.
Marinos Koutsomichalis is an artist, scholar, and creative technologist. He is broadly interested in the materiality of self-generative systems, (post-)digital objecthood, sound, image, data, electronic circuitry, perception, selfhood, landscapes/environments, and the media/ technologies we rely upon to mediate, probe, interact, or otherwise engage with the former. https://marinoskoutsomichalis.com/
Julien Ottavi Doctor in Arts, Composer, Artist, Curator. A mediactivist, artist-researcher, composer / musician, poet and tongues destroyer, experimental film maker and anarchitect, founder and member of Apo33, Julien Ottavi is involved in research and creative work, combining sound art, real-time video, new technologies and body performances. Since 1997, he develops a composition work using voice and its transformation through computer. Active developer of audio/visual programs with Puredata, he has also developed since many years DIY electronics (radio transmitters, oscillators, mixers, amplifiers, video transmitters…etc) in the perspective of knowledge sharing on technological development. Main developer for the Gnu/Linux operating system APODIO for digital art and A/V & streaming diffusion. His practices is not limited to the art spheres but crosses different fields from technological development to philosophy / theoretical research, bio-mimetic analysis & experimentation. For many years reflects on the relations between experimental practices and collective practices within the creation of autonomous collective groups, putting in question the authorship strategy of the "art ideology".
Jenny Pickett is a member of the artists' collective APO33 (art and technology research lab) in France, where she works on projects ranging from interactive installations to experimental music and performance. She is a member of various ensembles including: Onsemble (Orchestra of Nantes and St Nazaire), Orgone (Contemporary percussion group), OFFAL (Orchestra for Females and/at Laptops) and forms part of the duo Solar Return with Julien Ottavi. Pickett is a PhD Candidate at Cyprus University of Technology where she is attached to the Media Arts and Design Research Lab (MADlab). Her research interests include critical approaches to music and technology, interactivity, hybrid and participatory practices in art. Her thesis is : Do it with others (DIWO), Methodologies for artistic production and education. She holds a BA in Fine Art from Falmouth College of Arts and an MA in Interactive Media: Critical Theory and Practice from Goldsmiths, University of London. She is currently a lecturer in 'Art and Techniques of Representation' at the Nantes School of Architecture (ENSA).
Association APO33 is an interdisciplinary artistic, theoretical and technological laboratory that develops various collective projects
combining research, experimentation and intervention in the social space, based in Nantes, France. Apo33 aims is to work with the dynamics of the free software movement: a modular space, initiating open collaborative projects and creative processes and exploring new modes of artistic and creative production, transmission and dissemination. Through workshops, sharing know-how, seminars, interventions in the public space, co-creation, performances, exhibitions, international meetings, online projects and publications, Apo33 develops the current grassroots transformations of artistic and cultural practices, social consequences, re-appropriations and uses of Information and
communication technologies.